The best selection album will be released simultaneously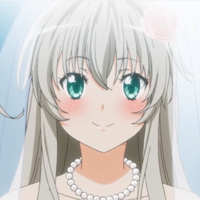 Avex has posted a two-minute PV for the OP/ED songs for the upcoming OVA Haiyore! Nyaruko-san F on its official You Tube channel. According to the video, the OVA will be the final installment of the Haiyore! Nyaruko-san anime series based on Manta Aisora's light novel series. The last 12th volume of the novel series was already published in Japan in March 2014.
The OP song is titled "Haiyore Once Nyagain" and performed by Ushiro kara Haiyori-tai G (Kana Asumi, Miyu Matsuki and Yuka Otsubo). The ED song "Kitto Engage" is sung by RAMM ni Haiyoru Nyaruko-san (Kana Asumi). The CD single containing both songs will be released on May 8. On the same day, a best selection album whose songs are selected by fans' votes will be also released. In addition, a Blu-ray box set for the 12-episode TV anime second season Haiyore! Nyaruko-san W is set for release on May 22.
Latest PV for the theme songs, best album, 2nd season Blu-ray box
"Haiyore! Nyaruko-san F" key visual
via: "Haiyore! Nyaruko-san F" official Twitter
© Manta Aisora, Softbank Creative/Meijyoushigatai Seisakuiinkai no Younamono F