Shiori Ota's mystery novel series has had 600,000 print run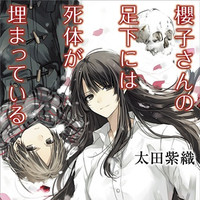 It is confirmed today that an anime adaptation of Shiori Ota's mystery novel series Sakurako-san no Ashimoto ni wa Shitai ga Umatteiru (There are bodies buried under Sakurak-san's foot) is in the works. While no other details are announced yet, a teaser site and official Twitter for the anime project launched today.
The series with illustrations by Tetsuo has been published from Kadokawa Shoten's Kadokawa Bunko since February 2013 and has had 600,000 total print run in Japan. The newest seventh volume is scheduled to be released tomorrow, February 25. It is set in Asahikawa-city in Hokkaido, where the 36-year-old novel author still lives. The story revolves around Sakurako Kujo, who is in her mid twenties and a daughter of a prestigious family, and what she loves the most are bones. She and high school student boy Shotaro Tatewaki meet and solve various cases related to bones.
1st and 2nd volume cover
3rd and 4th
5th and 6th
7th
via: Akiba Souken
© Shiori Ota 2013