Directed by Junichi Wada (Log Horizon 1st season director)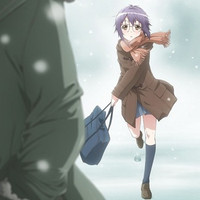 The official website for the upcoming Satelight-produced TV anime adaptation of Nagato Yuki-chan no Shoshitsu/The Disappearance of Nagato Yuki-chan manga has announced its premier schedule. The first episode will be aired on Tokyo MX and other stations at 25:40 on April 3 (JST). The manga is based on Puyo's official spin-off series of Nagaru Tanigawa's Haruhi Suzumiya light novel series.
In addition to the advance screening event for the first episode at Kadokawa Cinema Shinjuku in Tokyo on March 22, a special live stage with Minori Chihara (Yuki Nagato) and Tomokazu Sugita (Kyon) will be held at Anime Japan 2015 at 17:40 on on March 21.
Partly-colored character references of the Nagato Yuki-chan TV anime version are now available in its character pages: Yuki Nagato, Kyon, Ryouko Asakura, Mikuru Asahina, Tsuruya-san, Haruhi Suzumiya,
Itsuki Koizumi, Taniguchi, and Kunikida.
TVアニメ「長門有希ちゃんの消失」キャラクター設定が到着いたしました!まだ最終版ではないので本編とは少し異なりますがぜひ見てくださいね! http://t.co/Z8c6BuFIyF #有希ちゃん pic.twitter.com/vC4UJXAjGZ

— TVアニメ「長門有希ちゃんの消失」 (@yukichan_anime) February 20, 2015
TV anime key visual
Manga 1st and 7th volume covers
Source: "The Disappearance of Nagato Yuki-chan" official website, Twitter
(C)2015 Nagaru Tanigawa, Noizi Ito, Puyo/KADOKAWA Kadokawa Shoten/Kita High School Literature Club