Though discontinued in 2006, Sony's robot dog companions are still considered family by many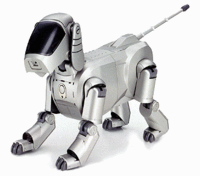 First brought to market in 1999, the Sony AIBO was an expensive novelty: a robotic pet programmed with some degree of artificial intelligence. AIBO owners could interact with their synthetic pets much like with a living organism, for example by playing or teaching the robot to perform tricks.
But the fate of the AIBO line was sealed in 2006, when Sony discontinued production. With the closure of Sony's "AIBO Clinic" in 2014, numerous AIBO owners were out of luck as their beloved pets continued to age and break-down, with little hope of maintenance or repair.
A new article profiles the trials and tribulations of these AIBO owners, many of whom consider their robots to be members of their family. Included are accounts of retired Sony engineers moonlighting as robot-veterinarians and of a traditional Buddhist funeral ceremony performed in January for 19 deceased robot pets.
You can read the entire article here.
This feels like a Ray Bradburry story come to life.
Source: AFP.com
Paul Chapman is the host of the Greatest Movie EVER! Podcast and GME! Anime Fun Time.