The two episodes are available for free on the website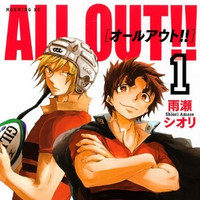 The official website for Kodansha's Morning magazines has posted an apology for publishing unfinished pages of the 35th and 36th episodes of Shiori Amase's rugby-themed manga ALL OUT!! in Monthly Morning Two's April 2015 issue released in Japan on February 21, though the author sent the finished versions 10 days before the final deadline. The manga has been serialized in the magazine since its January 2013 issue and currently five tankobon volumes are available.
According to the release, the unfinished data of the manga wrongly sent by the editor in charge of the manga to the printer were returned with an OK without being found they were unfinished, then printed as they were in the issue. Nobody in the editorial department noticed the mistake.
The author Amase didn't conceal her anger at all in her official blog post on February 22, because, while
apologizing for the mistake, editor in chief of the magazine didn't want to post the finished versions on
the web till she srtongly requested. He said, "Don't you think it's enough with the apology? Because the
finished versions will be able to be read in the future tankobon anyway."
The finished versions of the episodes (35th, 36th) will be available for free till March 19 on the publisher's
web manga site Moae.
The covers of the 1st and 5th volumes
via: IT Media
© Shiori Amase/Kodansha