The OP/ED theme songs are produced by Hiroyuki Sawano (Attack on Titan)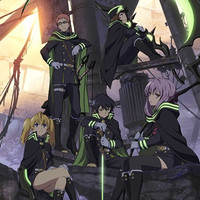 The official website for the upcoming TV anime adaptation of Owari no Seraph/Seraph of the End, the dark fantasy manga created by Takaya Kagami (story), Yamato Yamamoto (arts), and Daisuke Furuya (storyboards), today updated with its premiere schedule, OP/ED song artists, two more additional voice cast, and a new key visual featuring the five main characters.
【セラフ衝撃発表4】 番宣ビジュアル公開! 荒廃した世界で、シノア隊の5人は何を想うのか… #終わりのセラフ pic.twitter.com/4YOD7edC4M

— 終わりのセラフ公式 (@owarino_seraph) February 25, 2015
The first cour of the two-cour TV anime will premiere on Tokyo MX (22:00~) and MBS (25:58~) on April 4,
then on TV Aichi (26:05~) on April 5 and BS11 (24:00~) on April 6. The second cour is scheduled to be
aired from October to December in this year.
The OP song "X.U." and ED song "scaPEGoat" are produced by Hiroyuki Sawano's vocal song project
"SawanoHiroyuki[nZk]." The OP song is performed under the name "SawanoHiroyuki[nZk]:Gemie" featuring
a rookie singer Gemmie, while the ED song is under "SawanoHiroyuki[nZk]:Yosh" with Yosh (Survive Said
The Prophet). The CD single containing both songs will be released from Sony Music Japan on May 20.
Newly announced voice cast:
Krul Tepes: Aoi Yuuki (Madoka Kaname in Puella Magi Madoka Magica)
Crowley Eusford: Kenichi Suzumura (Sougo Okira in Gintama)
Previously announced cast:
Yuichiro Hyakuya: Miyu Irino (Nuts in Yes! PreCure 5, Astral in Yu-Gi-Oh! Zexal)
Mikaela Hyakuya: Kensho Ono (Tetsuya Kuroko in Kuroko's Basketball)
Glen Ichinose: Yuichi Nakamura (Alto Saotome in Macross Frontier)
Ferid Bathory: Takahiro Sakurai (Suzaku Kururugi in Code Geass)
Shinoa Hiragi: Saori Hayami (Ayase Aragaki in Oreimo)
Yoichi Saotome: Nobuhiko Okamoto (Rin Okumura in Blue Exorcist)
Shiho Kimizuki: Kaito Ishikawa (Tobio Kageyama in Haikyu!!)
Mitsuba Sangu: Yuka Iguchi (Index in A Certain Magical Index)
Kureto Hiragi: Tomoaki Maeno (Junichi Tachibana in Amagami SS)
Shinya Hiragi: Tatsuhisa Suzuki (Makoto Tachibana in Free!)
Trailer with English subtitle
The main staff:
Director: Daisuke Tokudo (episode director of Guilty Crown, Attack on Titan)
Deputy director: Masashi Koizuka (assistant director/assitant animation director of Attack on Titan)
Series composition/screenplay: Hiroshi Seko (Attack on Titan, KILL la KILL)
Character designer: Satoshi Kadowaki (Co-general animation director of Attack on Titan with Kyoji Asano)
Visual development art: Hiroki Shinagawa (GAINAX)
Anime production: WIT STUDIO (Attack on Titan, Hozuki no Reitetsu)
Source: "Seraph of the End" anime official website
©Takaya Kagami, Yamato Yamamoto, Daisuke Furuya/SHUEISHA, Seraph of the End Project