Its arcade game has sold 180 million cards in Japan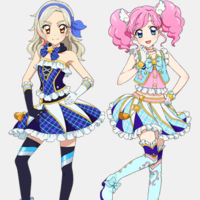 It is confirmed today that two newly-enrolled students, Madoka Amahane (CV: Yuuki Takada) and Rin Kurosawa (Chihiro Kawakami) will join the ongoing TV anime Aikatsu! from its 127th episode to be aired on April 2. The protagonist Akari Ozora and her friends will also move up to the second grade at Starlight Academy. And the time slot will be changed to 18:30 on Thursday, 30 minutes later than the current schedule.
Both the two VAs are newcomers in this business. Takada's first major character was Musubi Tennouji in social game Tokyo 7th Sisters launched in February 2014. Kawakami's only known anime character was Haruko in Boku wa Tomodachi ga Sukunai NEXT in 2013, while she has voiced in many Japanese dub of American TV drama, such as Kaylee Ehrmantraut in Breaking Bad. Joining this hugely popular anime series will definitely help building their career as anime voice actresses.
Rin Kurosawa and Madoka Akahane
Yuuki Takada and Chihiro Kawakami
New key visual for "Aikatsu!" TV anime from April
Source: press release
(C)BNP/BANDAI,DENTSU,TV TOKYO (C)BANDAI