"The Idolmaster Cinderella Girls" TV Anime OP song takes the top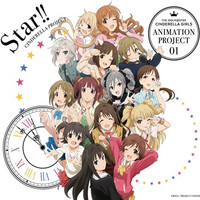 The TOWER RECORDS Shinjuku store in Tokyo has announced the weekly TOP 10 anime singles/albums for the week of February 16-22. The number one single of the seventh week of year 2015 was "Star!!" by Cinderella Project, which was released in Japan on February 18. It also ranked an impressive 4th in the Oricon weekly single chart selling 46,730 units in its first week.
It is featured as the OP theme song for the ongoing TV anime The [email protected] Cinderella Girls and performed by Ayaka Ohashi (Uzuki Shimamura), Ayaka Fukuhara(Rin Shibuya), Sayuri Hara (Mio Honda), Tomoyo Kurosawa (Miria Akagi), Sumire Uesaka (Anastasia), Naomi Ozora (Chieri Ogata), Maaya Uchida(Ranko Kanzaki), Nozomi Yamamoto(Rika Jougasaki), Ruriko Aoki(Riina Tada), Aya Suzaki(Minami Nitta), Hiromi Igarashi (Anzu Futaba), Natsumi Takamori (Miku Maekawa), Yuka Otsubo (Kanako Mimura) and Rei Matsuzaki(Kirari Moroboshi). They posted message videos to promote the
single on YouTube for 14 consecutive days till the release.
Weekly Top 10 Ranking (February 16-22, 2015)
1 (new). "Star!!"
Cinderella Project (The [email protected] Cinderella Girls OP)
Message from Sumire Uesaka (Anastasia)
2 (new). "I Just Wanna Be With You ~Virtual to Real no Hazama de~"  
Prizmmy☆ (12th single/PriPara 3rd coul ED)
3 (new). "Realize!"  
i☆Ris(8th single/PriPara 3rd coul OP)
4 (new). "Miiro"  
AKINO from bless4 (5th single/CanColle OP)
5 (new). "Fubuki"
Shiena Nishizawa (1st single/CanColle ED)
6 (new). "GENESIS"
Eir Aoi (9th single/Aldnoah.Zero 2nd ED)
7 (new). "Remind"
ROOKiEZ is PUNK'D (8th single/Yowamushi Pedal Grande Road 2nd OP) 
8 (new). "Re:May'n★Act"  
May'n (1st live album)
9 (new). "Ishmael"
Yuuki Aoi (1st album)
"Earl de Collage La Mirage"
10 (new). "NEXT PHASE"
Emi Nitta (3rd single/Cardfight!! Vanguard G 2nd ED)
* all of the CMs/PVs in this article are legitimately posted on YouTube by the copyright holders/distributors.
---
2015 archive
TOWER RECORDS Shinjuku Weekly Anime Song TOP 10 December 22 - January 11
TOWER RECORDS Shinjuku Weekly Anime Song TOP 10 January 12-18
TOWER RECORDS Shinjuku Weekly Anime Song TOP 10 January 19-25
TOWER RECORDS Shinjuku Weekly Anime Song TOP 10 January 26-February 1
TOWER RECORDS Shinjuku Weekly Anime Song TOP 10 February 2-8
TOWER RECORDS Shinjuku Weekly Anime Song TOP 10 February 9-15
Source: Mantan Web