The main visual features Fubuki, Mitsuki, Yuudachi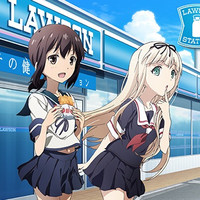 Simultaneously with the ongoing one with The [email protected] Cinderella Girls, Lawson, one of the largest Japanese convenience store chains, will launch a new collaboration campaign with the Kantai Collection/KanColle TV anime tomorrow, March 3.
Main visual
In this campaign, purchasers of one of four energy drinks Yunker (525 yen to 1,429 yen) can get one of
four original posters featuring Fubuki, Hibiki, Ikazuchi, Akatsuki&Inazuma. The campaign will start at 7:00
am on March 3.
Purchasers of three of Lotte's selected sweets (95 yen to 195 yen) can get one of four original
clear files. It will start at 7:00 am on March 15.
In addition, the purchasers of the Lotte sweets will have a chance to win this 60-limited original pins
set by sending the receipt.
©2014 "Kancolle" Combined Fleet Headquarters