Latest TV anime adaptation based on Rumiko Takahashi's manga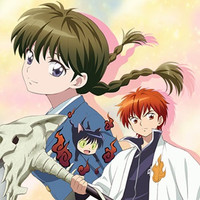 One month before its premiere, NHK's official website for the upcoming TV anime adaptation of internationally acclaimed manga artist Rumiko Takahashi's ongoing serialization work Kyoukai no Rinne/Rin-ne today announced five more voice cast.
Newly announced voice cast:
Tsubasa Jumonji: Ryohei Kimura (Yugo Hachiken in Silver Spoon)
Masato: Tetsuya Kakihara (Natsu Dragneel in Fairy Tail)
Miho: Sora Tokui (Nico Yazawa in Love Live!)
Rika: Aya Suzaki (Tamako Kitashirakawa in Tamako Market)
Narrator: Tessho Genda (Arnold Schwarzenegger's Japanese dub voice)
(from left) Jumonji, Masato, Miho, Rika
Previously announced:
Rinne Rokudou: Kaito Ishikawa (Tobio Kageyama in Haikyu!)
Sakura Mamiya: Marina Inoue (Armin Arlert in Attack on Titan)
Rokumon: Hitomi Nabatame (Saori Makishima in Oreimo, Mana Aida/Cure Heart in Dokidoki! PreCure)
Tamako: Satsuki Yukino (Kagome Higurashi in Inuyasha)
Sabato Rokudou: Kappei Yamaguchi (Ranma Saotome in Ranma 1/2, Inuyasha in Inuyasaha)
NHK's educational channel E Tere (NHK-E) will start airing the 25-episode supernatural comedy anime series
at 17:30 on April 4 (JST). Seiki Sugawara (D-Frag!) serves as the series director for Brain's Base (D-Frag!, One
Week Friends.). Michiko Yokote (Squid Girl, SHIROBAKO) works on series composition. Four-member rock band
KEYTALK performs the OP song "Ouka Ranman" (Cherry blossoms in full bloom), while five-member band
Passepied for the ED song "Tokinowa" (The ring of time).
TV anime main visual
Source: NHK
© Rumiko Takahashi, Shogakukan/NHK, NEP. ShoPro