Pre-orders available now, "Minky Momo" peach-flavored lip balm ships in May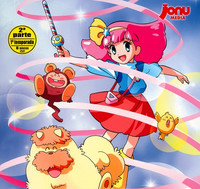 The longevity of certain "magical girl" anime in Japan is truly remarkable as evidenced by the newest commercial tie-in with Magical Princess Minky Momo: peach-flavored lip balm. Available for order beginning on March 03, 2015, it comes in a dispenser shaped like Momo's magic wand and retails for 1922 yen ($16.09 US) from the Premium Bandai online store.
Magical Princess Minky Momo is an extremely popular "magical girl" anime produced by Ashi Productions, now known as Production REED. The original Minky Momo aired on TV Tokyo in 1982, followed by several direct-to-video OAVs and a TV anime reboot in 1991 that aired on Nippon Television. The show chronicles the adventures of Momo, a princess from a fairytale land who comes to Earth to help people with her magic.
In the anime Momo uses her magic wand to transform into an adult version of herself. Although the Minky Momo lip balm doesn't come with magical transformation powers, its peach-flavored mixture can sooth chapped lips. Orders can be placed as of March 03, 2015, and the final product will beginning shipping in May.
Source: Otajo.jp