Both directed by the 1st-3rd season director Shin Itagaki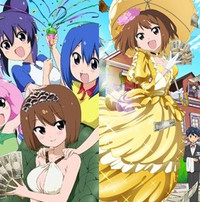 The official websites for the upcoming fourth TV anime adaptation of Roots and Piyo's comedy manga series Teekyu and its spin-off series Takamiya Nasuno Desu! simultaneously announced today that the two will premiere in Japan on April 6. The Teekyu fouth season will premiere on Tokyo MX at 25:05, then Takamiya Nasuno Desu! will follow three minutes later at 25:08.
Shin Itagaki, who worked on the three previous seasons, returns as director, script writer and character designer for both. Maiko Miyake supports him as co-character designer and animation director for the fourth Teekyu. Millepensee works on anime production instead of MAPPA for the first three. And of course, all of the four main voice cast: Yui Watanabe (Yuri Oshimoto), Suzuko Mimori (Kanae Shinjo), Kyoko Narumi (Nasuno Takamiya) and Kana Hanazawa (Marimo Bandou) reprise their roles.
Main visual
Source: "Teekyu" and "Takamiya Nasuno Desu!" official website
© Roots/Piyo/Earth Star Entertainment/Kameido High Tennis Club
© Roots/Piyo/Earth Star Entertainment/Tamamiya Zaibatsu