Gush over this new trailer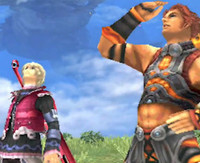 Xenoblade Chronicles 3D is on the horizon, and Nintendo of America has released a brand new trailer entitled "Heir to the Monado."
The 3DS port of the Monolith Soft RPG releasedback on the Wii will be rolling out in North America as of April 10. Europe and Japan will get the game on April 2, but it's amazing we can expect it all, and an awesome turn of events since the original game seems to be a bit pricey these days.
Enjoy the trailer below!

[via Gematsu]
-------
Fueled by horror, rainbow-sugar-pixel-rushes, and video games, Brittany is a freelancer who thrives on surrealism and ultraviolence. Follow her on Twitter @MolotovCupcake and check out her portfolio for more.