Including Theme songs for "No Game No Life," "Lord Marksman and Vanadis"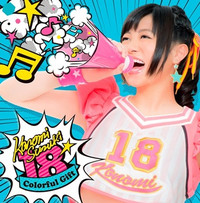 Media Factory has posted a four-minute PV for 18-year-old anison singer Konomi Suzuki's upcoming 2nd album "18 ~Colorful Gift~" on its official YouTube channel. The bonus DVD for the limited edition includes footage from her birthday event "Sayonara Jyuunana-sai, Konnichiwa Jyuhassai" (Good bye 17-year-old, Hello 18-year-old) held at J-Square Shinagawa in Tokyo on November 1, 2014. The 13-song album is scheduled to be released in Japan on March 4. It is also announced that her second one-person live will be held at Ebisu Liquid Room in Tokyo on May 6.
Suzuki won the 5th Animax All-Japan Anison Grand Prix in 2011 when she was 15, then made her debut as a professional anison singer in April 2012 with 1st single "CHOIR JAIL," the OP theme for the 2012 TV anime Dusk Maiden of Amnesia. Her 1st full album "17" was released on February 26, 2014, ranking 34th in the Oricon weekly album chart in its first week.
"18 ~Colorful Gift~" song list:
1. "Absolute Soul" (8th single/Absolute Duo OP)
2. "This game" (6th single/No Game No Life OP)
3. "Ginsen no Kaze" (7th single/Lord Marksman and Vanadis OP)
4. "Omoiyari" (Comic Chant-LA -Zettai Izon no Utahime image song)
5. "NOT PYGMALION" (new song)
6. "Tomorrow's best" (new song)
7. "Fly to the stars 2015" (from 2nd single "DAYS of DASH")
8. "Fragile-na Kimi" (new song)
9. "LLL:CONNECTION" (new song)
10. "Watashi ga Obasan ni Nattemo" (Chisato Moritaka cover)
11. "I believe" (new song)
12. "Sotsugyou Shashin" (Yumi Arai cover)
13. "BONUS TRACK!!" (Suzuki Konomi AniSama 10thSP Medley: Studio REC Ver.)
Limited editiob CD jacket
Regular edition
Source: Konomi Suzuki official website
© KADOKAWA CORPORATION 2014