Directed by the 1996-1998 TV anime helmer Akitaro Daichi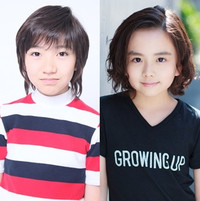 Following the two child actresses for the protagonist Sana Kurata, Nelke Planning has announced double casting for Akito Hayama, Sana's main counterpart in the story, for the upcoming stage play adaptation of Miho Obana's popular shoujo manga series from the mid-late 1990s, Kodomo no Omocha, aka Kodocha. The cast for Akito's friend Tsuyoshi, his older sister Natsumi, and Sana's classmates are also listed. The open audition for the roles was held last summer.
Main cast:
Sana Kurata: Kokoro Okuda/Rio Ogura
Akito Hayama: Yuuga Aizawa/Rihito Itagaki
Tsuyoshi: Sougo Ito
Natsumi Hayama: Satsuki Usui/Mio Yoshimura
Classmates: Hiyori Arima, Masahiro Ezaki, Eri Kazama, Wakana Kawai, Keita Takahashi,
Mishou Takahashim Mitsuki Nishida, Miku, Yumeka Yoshihara
The 1996-1998 TV anime helmer 59-year-old Akitaro Daichi writes/directs the stage play as well.
It is scheduled to be performed at Hakuhinkan Theater in Tokyo late August.
Yuuga Aizawa/Rihito Itagaki
Kokoro Okuda/Rio Ogura
Ad image
The covers of the 1st and 10th tankobon
via: Comic Natalie
© Miho Obana/Shueisha