The game's central villain makes an appearance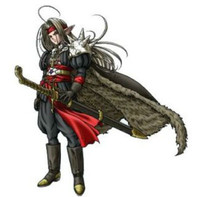 Dragon Quest Heroes is the latest Dragon Quest adventure on the horizon, and Square Enix has seen fit to grace us with gameplay footage featuring its central villain Psaro.
The video is 12 minutes long, chock full of footage including a battle against Psaro as well as playable Psaro so you can get a feel for how he plays. He'll be headed for Dragon Quest Heroes come Thursday, March 12 in the form of free DLC. You also get Jessica and Yangus' side stories included with Psaro himself.
Sounds like a pretty good deal to me! Free stuff, free characters, etc. Now if I could just read enough Japanese to play, I'd be in business.
[via Gematsu]
-------
Fueled by horror, rainbow-sugar-pixel-rushes, and video games, Brittany is a freelancer who thrives on surrealism and ultraviolence. Follow her on Twitter @MolotovCupcake and check out her portfolio for more.