This is no ordinary teddy bear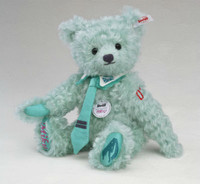 Die-hard Hatsune Miku fans will have another type of collectible item to add to their stash: a cuddly teddy bear! But it's not just any teddy bear, its a Steiff bear. This bear's gonna cost you a good amount of dough to take home.
The popular teddy bear company is creating a very limited run of Hatsune Miku-inspired bears, each teal colored with a tie and collar, Miku's name on a paw, a silhouette of Miku, and an "01" on the shoulder. The bear even has movable joints to go along with its incredibly soft mohair fur.
If you want in on one of these bears, you'll have to act quickly. There are only 1,500 being made and each one is about 39,000 yen. That comes out to about $322. Preorders begin March 9 at Steiff shops in Japan, so if you want to get one you'll probably have to get someone to preorder yours for you! But just look at how cute the bear is! It's definitely worth fighting for.
[via Anime News Network]
-------
Fueled by horror, rainbow-sugar-pixel-rushes, and video games, Brittany is a freelancer who thrives on surrealism and ultraviolence. Follow her on Twitter @MolotovCupcake and check out her portfolio for more.