You don't want to eat them, but they sure look yummy!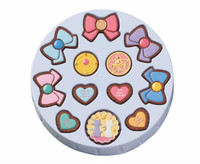 The Sailor Moon merchandise train is still chugging along, and the latest additions to the collection look good enough to eat. They're special little charms that you can clip to your bag, but they look just like delicious little cookies!
The 12 cookie-themed charms are part of the Sailor Moon Charm Patisserie Cookie Charm Assortment (yes, "charm" is used twice there) and it includes ribbons corresponding to each Soldier, Sailor Moon's brooches, and more!
There are two different versions of the collection available, with one acting as the limited edition and the other the regular release. The limited edition is about $33, but you can buy both together for about $59. They're available for preorder through Premium Bandai and will be shipping in late June.
[via RocketNews24]
-------
Fueled by horror, rainbow-sugar-pixel-rushes, and video games, Brittany is a freelancer who thrives on surrealism and ultraviolence. Follow her on Twitter @MolotovCupcake and check out her portfolio for more.