Directed by Sunao Katabuchi (Black Lagoon, Mai Mai Miracle)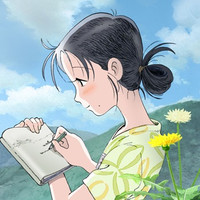 A crowdfunding for an anime feature film project based on Fumiyo Kouno's award-winning manga Kono Sekai no Katasumi ni (In This Corner of the World) officially launched today, March 9. Though the project itself was announced back in August 2012, it hasn't been able to start production yet due to lack of funds. The goal is 20 million yen (about 165,600 US dollars),
The World War II manga was serialized in Futabasha's Weekly Manga Action from 2007 to 2009. It tells a story of a family who lived in Kure-city, Hiroshima Prefecture, where was one of the areas destroyed by the atomic bomb dropped by U.S. forces. It won the Excellence Prize in the 2009 Japan Media Arts Festival. A live-action TV drama starring Keiko Kitagawa as the protagonist Suzu Hojo was aired on August 5, 2011. Kouno is also well known for her another Hiroshima-themed manga Yunagi no Machi, Sakura no Kuni (Town of Evening Calm, Country of Cherry Blossoms) in 2003.
The anime feature film is written/directed by Sunao Katabuchi (Black Lagoon, Mai Mai Miracle). MAPPA
(Terror in Resonance, Punchline) works on anime production, while GENCO (Nodame Cantabile, Sword Art
Online) produce the whole project. It is scheduled to be released in 2016.
The covers of the orginal manga volumes published by Futabasha
Anime visual
via: Netlabo
© Fumiyo Kouno, Futabasha/"Kono Sekai no Katasumi ni" Production Committee