After working 18 years for the internationally acclaimed studio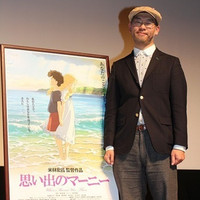 41-year-old Hiromasa Yonebayashi, the director of The Secret World of Arrietty (2010) and Marnie Was There (2014), confirmed today that he had already left Studio Ghibli.
He joined a talk show event for the release of the DVD/Blu-ray of Marnie held in Tokyo today, March 12, with Japanese figure skater Daisuke Takahashi who performed in the CMs for the disc. He announced that he left Studio Ghibli in the end of the last year and was no longer a member of the company. He said, "I talked with producer (Yoshiaki) Nishimura about what to do. I still want to make films, though it isn't clear what they will be like," and added, "For example, I want to try an action-oriented or fantasy film, which are totally opposite from Marnie."
His last film at Studio Ghibi, When Marnie Was There opened in Japan on July 19, 2014, and earned a
very disappointing 379 million yen on 285,200 admissions in its first weekend. It was only 42% of his
first feature film The Secret World of Arrietty's 900 million yen in July 2010. Marnie's total box office revenue
in Japan was 3.53 billion yen, almost one-third of Arriety's 9.25 billion.
In early February, Studio Ghibli co-founder/producer Toshio Suzuki confirmed that, after Hayao Miyazaki's
retirement from feature films, the studio was still open for business but was doing virtually none at all.
via: Oricon Style