Also on tap: English-dubbed Durarara!!x2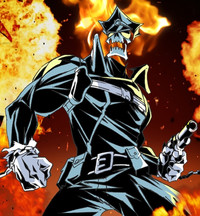 I know most of you are big on the latest shows of the season on Crunchyroll, but we also have a pretty deep back catalog of shows that keep expanding pretty frequently, and this month is no exception. There's sure to be something for everyone with the following additions:
As many of you know, Durarara!!x2 is currently streaming on Crunchyroll. What many of you might not know yet is that Aniplex is also dubbing the series in English as the series airs, too. So, every Tuesday at 10am PDT, you can check out an English-dubbed episode of the series, which features the dub cast from the first season back in their respective roles along with new cast members. The English dub is limited to members in the US and Canada while Aniplex describes the new season below:
"6 Months Later…We haven't changed at all… or it seems…." Half a year after the turmoil that rocked the entire city of Ikebukuro— Peace has once again returned to the city and people are living each day normally. The high school students enjoy their days of youth as the strongest and most dangerous man of Ikebukuro works diligently. The informant plots a new scheme and the headless rider is pursued by the cops as she rides through the night…But soon this normal will be cut short by the abnormal. Slowly but surely, the unknown will seize the city and face an all new storm.
Donyatsu was created by Yusuke Kozaki, the main behind the character designs for Under the Dog and Fire Emblem: Awakening, featuring a plethora of pastry cats running around post-apocalyptic Tokyo, featuring the voice talents of Yukari Tamura, Keiji Fujiwara, and more! All episodes of Donyatsu are now available to all Crunchyroll members worldwide, except Japan.
This one is a personal favorite of mine along with many other Crunchyroll staff and I'm glad the constant begging fan demand for the show made this one possible. Studio Trigger's Inferno Cop was the studio's first major work and the webseries is simply described as "Inferno Cop vs. THE WORLD. The unholy officer's flame of justice burns!" The complete series is available now for all Crunchyroll users worldwide except Japan.
Finally, for those of you in selected European countries and international territories, Yu-Gi-Oh 5Ds is now complete and subbed, so those of you that were waiting for the complete series can now rest easy and enjoy the whole thing. Have fun, and don't forget to comment on which shows you're looking forward to.