4th Gundam TV series aired in 1993-1994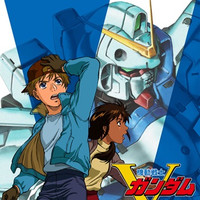 It is officially announced that Bandai Visual will release two Blu-ray disc sets of Sunrise's 1993-1994 TV anime Mobile Suit V (Victory) Gundam in July and September. The fourth Gundam TV series was aired for 51 episodes in Japn from April 1993 to March 1994. When its DVD box set was released in 2004, the director Yoshiyuki Tomino gave his comment, "These DVDs are not worth watching. Don't buy!" It has been well known that V Gundam is one of his least favorite series.
After 11 years, his attitude has not changed much. He said this time, "This is a series that I want to deny completely. Such a result was all my responsibility. If you watch this Blu-ray due to some kind of mistake, please find what went wrong with 'Mobile Suit V Gundam.' If there is anyone who can learn something from it, we will have a meaning to release it as Blu-ray."
The first set containing the first 26 episodes will be released on July 24, then the second set for the episode
27-51 will follow on September 25. Both set comes with newly-recorded audio commentary for four selected
episodes, booklets for the story guide and production materials, and an illustrated box by the original mecha
designer Hajime Katoki. The reference price for both sets is 34,000 yen (about 280 US dollars).
Main visual
via: AV Watch
(C) Sotsu/Sunrise