5 winners will receive a special 3 badge set featuring mascot character Normad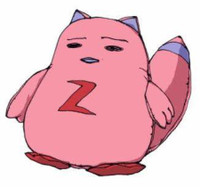 To celebrate the 14th Anniversary of the Galaxy Angel TV anime, Charatoru is launching a social media campaign on Twitter. Japanese Twitter users can enter the contest beginning March 20, 2015, by following the official Charatoru (@charatoru) feed on Twitter and then posting tweets about what kind of character goods they wish to see featuring Normad, the mascot character of Galaxy Angel.
The contest runs until April 05, 2015. Five winners will receive a 3-badge set featuring Normad. Charatoru's Normad-themed prizes are scheduled to hit Japanese arcades in August.
Galaxy Angel began in 2000 as a series of bishoujo dating sims, but spun off into a series of science fiction / comedy anime TV shows with animation by Madhouse beginning in 2001. The series features a mostly female cast who venture all over the galaxy trying to prevent powerful "Lost Technology" artifacts from falling into the wrong hands, but mostly this framework is just an excuse to put the ladies in silly situations.
Normad is a mascot character who joins the cast early on. An artificial intelligence program designed to pilot a missile, Normad is initially suicidally depressed that the whole of his existence will end in an explosion. The Angels solve this problem by transferring Normad's consciousness into the body of a stuffed doll, but Normad's sarcastic attitude often results in him being pummeled by the rest of the crew.
Charatoru is a Japanese company that specializes in "crane game" toys. They often collaborate with anime companies to produce prizes for the claw machines that populate Japanese arcades.
More information can be found at the promotion's official home page.
Source: Animate.tv
Paul Chapman is the host of the Greatest Movie EVER! Podcast and GME! Anime Fun Time.