Directed by Hiroyuki Hata (Recently, My Sister Is Unusual)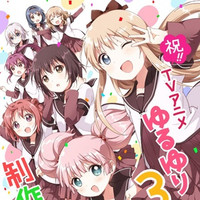 It is officially confirmed today, March 18, that the title for the upcoming Yuruyuri TV anime third season will be Yuruyuri San☆Hai!. Following the first season in 2011 simply called Yuruyuri, the second season in 2012 was titled as Yuruyuri♪♪, adding two eighth notes. San Hai can be translated as "the third round", and is also a kind of call Japanese use when they start something, like when they start singing. The on-air schedule for the third season hasn't yet been confirmed.
The four members of Nanamori-chu Goraku-bu (Shiori Mikami, Yuka Otsubo, Minami Tsuda, Rumi Okubo) will be joining a presentation for a new collaboration project "Anime x SEGA" at Anime Japan 2015 on March 21. While no details revealed, the new project by SEGA is considered to be related to the Yuruyuri franchise.
The announcement video
Main staff:
Director: Hiroyuki Hata (Recently, My Sister Is Unusual)
Script writers: Hiroyuki Hata, Makoto Fukami (Psycho-Pass)
Character designer/Chief animation director: Motohiro Taniguchi (selector infected WIXOSS, KanColle)
Anime production: TYO Animations (Sengoku Musou, Yuruyuri Nachuyachumi!)
Key visual
via: Comic Natalie
© 2014 Namori/Ichijinsha, Nanamori-chu Goraku-bu