Directed by Nobuhiro Kondo (Sgt Keroro, Nobunagun)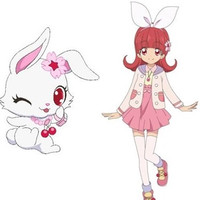 Details about the upcoming 7th Jewelpet TV anime series, titled Jewelpet Magical Change, are revealed to the media today. As the title suggests, the new series features magical girls for the first time in the franchise's seven years history.
The Jewelpet franchise was launched in 2008 as a collaboration project between Sanrio and Sega Sammy. Six TV anime series were produced by Studio Comet (6th series Lady Jewelpet was co-produed with ZEXCS) since the following year, and their stories featured various types of Jewlpet, cute animals named after jewels. But in the 7th series Jewelpet Magical Change, which produced by Studio Deen and is scheduled to premiere in Japan on April 4, the Jewelpet animals have an ability to transform into human magical girls. See their images below.
Ruby (CV: Ayaka Saito)
Labra (CV: Miyuki Sawashiro)
Larimar (CV: Ayahi Takagaki)
Luna (CV: misono)
Luea (CV: Yuka Iguchi)
Human characters:
Airi Kirara (Aki Ozawa), Sakutaro Kirara (Kotaro Nishiyama), Rola Fukuouji (Rui Tanabe)
Main staff:
Director: Nobuhiro Kondo (Sgt Keroro, Nobunagun)
Series composition: Masahiro Yokotani (Free!)
Character design: Hiroki Harada (Yu-Gi-Oh!Zexal)
Pet design: Tomoko Miyakawa
Art director: Riki Nishikura
Sound production Dax Production
Music production: F.M.F
Anime production: Studio Deen
Production: TV Tokyo, TV Tokyo Media Net
Source: press release
©'08,'15 SANRIO/SEGA TOYS/TV Tokyo, Jwelpet Production Committee