Dogakobo produces original robot girl TV anime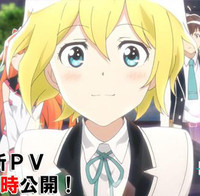 Aniplex has posted a new, third preview for spring 2015 anime Plastic Memories. The original near-future, robot girl slice of life sci-fi about "encounters and separations" features a collaboration between Infinite Stratos original character designer and illustrator of the first seven light novels' first edition okiura and MAGES.' Steins;Gate writer Naotaka Hayashi.
Yoshiyuki Fujiwara ( GJ-Bu ) is directing with Love Lab and YuruYuri's character designer Chiaki Nakajima back at Dogakobo for the production.
OP song "Ring of Fortune" is performed by 26-year-old Eri Sasaki. It will be released from Sony Music Japan as her debut song on May 27. Meanwhile, its ED song "Asayake no Starmine" (Starmine in the morning glow) is sung by 37-year-old voice actress/singer Asami Imai, who is best known as Chihaya Kisaragi in The [email protected]series and Kurisu Makise in Steins;Gate. It will be released from 5pb. Records as her 15th single on June 3.
Sakura theme character art will be presented by Aniplex at this weekend's AnimeJapan, with a stage event also taking place on Sunday.
「プラスティック・メモリーズ」最新PVがいよいよ本日20時公開予定!公開直前のカットはザックとターミナルサービスの面々。本日20時の公開をお楽しみに! #plamemo pic.twitter.com/zk1H5ENtWO

— TVアニメ「プラスティック・メモリーズ」 (@pla_memo) March 20, 2015
現在、国際展示場駅にて「電撃文庫」ヒロインズ&『プラスティック・メモリーズ』の大型ボードを掲出中! 「AnimeJapan 2015」にお越しの際は、ぜひご覧ください!! #plamemo #電撃文庫 pic.twitter.com/rW03I4w0kZ

— AMW公式 (@AMW_senden) March 20, 2015
今週の土曜、日曜に行いますAnimeJapanのアニプレックス特設ブースにてアイラの桜バージョン等身大キャラクターポップを公開します!詳細はコチラ→http://t.co/ECDXeH4H0a #plamemo pic.twitter.com/OQd95QaSV2

— TVアニメ「プラスティック・メモリーズ」 (@pla_memo) March 19, 2015
今週末3月22日(日)にAnimeJapan2015のBLUEステージにて開催する「プラスティック・メモリーズ」ステージイベントにご当選された方、ステージ観覧券の御引き換えは当日まで可能ですので忘れず! #plamemo pic.twitter.com/qlcViN9ip1

— TVアニメ「プラスティック・メモリーズ」 (@pla_memo) March 19, 2015
告知ボードの右側に自分が描かせていただいたG'sマガジン5月号の表紙イラストと祐佑さんの描かれたコミック版のイラストが映ってます >RT pic.twitter.com/rn7Zzn0fBC #plamemo

— ノシ/okiura (@oki_noshi) March 18, 2015
cast includes
Isla: Sora Amamiya

Tsukasa Mizugaki: Yasuaki Takumi

Mitiru Kinushima: Chinatsu Akasaki

Kaduki Kuwanami: Megumi Toyoguchi

Zack: Sayuri Yahagi

Constance: Satoshi Hino

Yasutaka Hanada: Kenjiro Tsuda

Takao Yamanobe: Nobuo Tobita
Sherry: Aimi

Eru Miru: Sumire Uesaka
via pKjd
-------
Scott Green is editor and reporter for anime and manga at geek entertainment site Ain't It Cool News. Follow him on Twitter at @aicnanime.