TV anime 2nd season is reaching its climax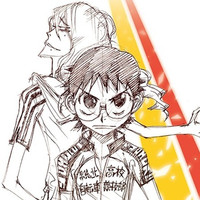 The official website for the upcoming all-new feature film based on Wataru Watanabe's road bicycle racing-themed manga Yowamushi Pedal has launched for a summer 2015 release with a 30-second teaser. While not much information revealed so far, it is confirmed that the manga author provides a newly-written story for it.
Back in September 2014, a compilation film of the TV anime 1st season, titled Yowamushi Pedal Re:RIDE, was screened at Japanese theaters for a limited time of two weeks. But this summer film will tell a totally new story.
Teaser for the film
Teaser visual drawn by Watanabe
3rd PV for the ongoing TV anime 2nd season
via: Movie Natalie
(C) Wataru Watanabe (Weekly Shonen Champion)/"Yowamushi Pedal Movie" Production Committee