Kazunari Ninomiya (Arashi) voices Korosensei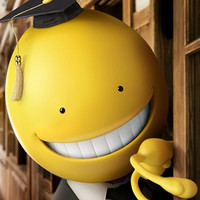 The highly anticipated live-action film adaptation of Yusei Matsui's Ansatsu Kyoushitsu/Assassination Classroom manga opened on 313 screens across Japan on March 21. As expected, it easily topped the weekend box office with an astonishing 410,788,100 yen on 350,900 admissions.
It had been kept a secret, even among the cast, till the opening day that Korosensei is voiced by 31-year-old Kazunari Ninomiya, a member of Johnny's Entertainment's boys idol group Arashi. In the ongoing TV anime series, the alien teacher is performed by Jun Fukuyama (many fans had expected his voice in the film as well). 21-year-old Ryosuke Yamada, a member of the talent agency's another group Hey! Say! JUMP, plays one of the main students of the class 3-E, Nagisa Shiota.
The Eiichiro Hasumi (Umizaru series)-directed film is expected to earn around 3 billion yen in its theatrical
run in Japan.
Movie poster
Source: Movie Walker
(C) 2015 Yusei Matsui/Shueisha, Movie "Ansatsu Kyoushitsu" Production Committee