Continuation of last Fall's surprise hit short starts Thursday April 2nd at 11:30 AM PDT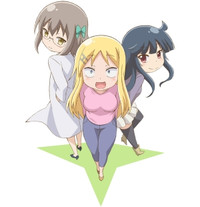 Crunchyroll will be continuing selected simulcasts this Spring, starting with the acquisition of the sequel to surprise Fall season hit I Can't Understand What My Husband is Saying 2nd Thread. The series will be available to all Crunchyroll users worldwide except in Japan. Otaku husband Hajime and his OL wife Kaoru are back for another season highlighting their hijinks as a newly married couple.
Voice actors Yukari Tamura and Kenichi Suzumura are back once again reprising their roles as Kaoru and Hajime, respectively, as well as singing the opening theme: "Yuruganu Futari ~Ai no Sanka~". Animation production will be handled again by Seven, with director Shinpei Nagai also returning to write and direct the second season as well. I Can't Understand What My Husband Is Saying 2nd Thread is set to broadcast every Thursday starting on April 2nd, at 11:30 AM Pacific Time for Premium members, and free members will be able to watch one week later.