Continuation of manga adaptation begins on April 5th, 2015 at 3:00 am PDT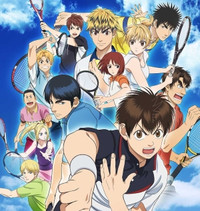 Following up, Crunchyroll is also continuing to add to its Spring season with the acquisition of Baby Steps 2. The series is set to broadcast every Sunday starting on April 5th, 2015 at 3:00 am Pacific Time for Premium members, with free members able to watch one week later.
Based on the manga by Hikaru Katsuki, Baby Steps centers on an honor student named Eiichiro Maruo who becomes frustrated with his life and decides to join the tennis club. Despite lacking experience and physical strength, he utilizes his studious nature to develop a strategic approach to playing tennis.Taking notes of his opponents' habits and tendencies, he is able to predict their next move before they even react.
He also meets Natsu Takasaki, a beautiful girl with a passion for tennis. With her help, he aims to become a professional tennis player. In the second season of the anime, Hiroshi Kamiya joins the series voicing 19-year-old professional tennis player Alex O'Brien at the world-renowned IMG Academy in Florida, while Megumi Han voices the role of his sister, Marcia.
Baby Steps 2 will be available to audiences in USA, Canada, South Africa, Australia, New Zealand, Latin America (Central and South America including the Caribbean), UK, Ireland, Finland, Norway, Sweden, Denmark, Netherlands, and Turkey.