Starts April 4th at 10:00 am Pacific Time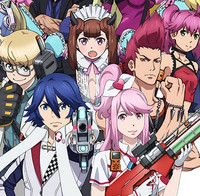 More new streaming anime announcements come blasting out of Crunchyroll today as Gunslinger Stratos, based on the hit video game series, is set to begin broadcasting shortly.
Gunslinger Stratos is set to broadcast every Saturday starting on April 4th, 2015 at 10:00 am Pacific Time for premium members, with free members able to watch one week later. More information can be found on www.crunchyroll.com/gunslinger-stratos.
Story
A.D. 2115 — the island nation once called Japan is now known as the "17th Far East Imperial City Management District."

The citizens were promised a life of peace in exchange for some of the comfort they were used to having. People believed their lives would never change and tomorrow will be the same as today. No one suspected the impending doom which their society was about to face…

"Degradation"—a rare disease which led to the total disintegration of the human body to a mere pile of sand was slowly but surely spreading throughout the world.

Tohru Kazasumi, an ordinary student becomes embroiled in a multi universal battle between his world and the parallel world of "Frontier S (Stratos)." This meant that Tohru must fight himself from an alternate world.

Their futures collide as their paths cross. Will both worlds ever find peace?
Gunslinger Stratos will be available to audiences in North America, Central America, and South America.
------
Patrick Macias is editor in chief of Crunchyroll News and Otaku USA magazine. He is also the author of the HYPERSONIC music club webcomic.