Starts April 6th at 10:00 AM Pacific Time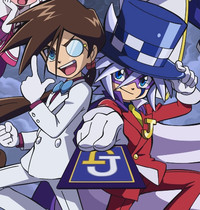 The jokes and japes of April Fools' Day may be tickling your funnybone elsewhere, but rest assured we are not pulling your leg: the second season of JOKER (AKA Kaitou Joker), based on the manga by Hideyasu Takahashi will soon begin streaming at Crunchyroll!
JOKER is set to broadcast every Monday starting on April 6th, at 10:00 AM Pacific Time for premium members, with free members able to watch one week later. More information can be found on www.crunchyroll.com/joker.
Background and story
Based on the manga Kaitou Joker by Hideyasu Takahashi, JOKER focuses on the phantom thief Joker, who travels the globe searching for treasure. Along the way, with his partner and cook Hachi, they must avoid the police and compete in various competitions to reach the Timeslip Treasure.
The original JOKER cast is back to reprise their previous roles, with Ayumu Murase voicing the main character Joker and Yumiko Kobayashi his companion Hachi. Miyuki Sawashiro returns as Queen, and Hiro Shimono will be voicing Spade. Shin-Ei Animation will once again be producing the series, with Yukiyo Teramoto directing.
JOKER will be available to Crunchyroll's audience worldwide excluding Asia.
------
Patrick Macias is editor in chief of Crunchyroll News and Otaku USA magazine. He is also the author of the HYPERSONIC music club webcomic.