Starts April 4th at 10:30am Pacific Time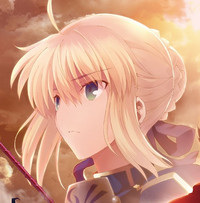 The quest for the Holy Grail (and new streaming anime) continues at Crunchyroll today with word that the second cour of Fate/stay night: Unlimited Blade Works will begin simulcasting soon!
The second part of Fate/stay night: Unlimited Blade Works is set to broadcast every Saturday starting on April 4th, 2015 at 10:30am Pacific Time for premium members, with free members able to watch one week later. More information can be found on www.crunchyroll.com/fatestaynight.
Background and story
The highly anticipated second half of the famed visual novel-based anime, Fate/stay night: Unlimited Blade Works continues where the plot left off in the first half of the series, focusing on a group of masters fighting to obtain the holy grail with the help of their mystical servants, heroic sprits with great power from the ages past.
"Fuyuki City—a city surrounded by the ocean and the mountains becomes the setting for an age old ritual. To realize the mythical Holy Grail, which is said to grant any wish from its possessor, seven masters are given seven heroic spirits chosen by the Grail. These heroic spirits or servants are: Saber, Lancer, Archer, Rider, Caster, Assassin and Berserker. Each master will enter into a contract with their assigned servants and battle the other masters and servants to the death until only one pair remains…This is the ―Holy Grail War."
Fate/stay night: Unlimited Blade Works will be available to audiences in North America, Central America, South America, Australia, New Zealand, United Kingdom, Ireland, and Asia excluding China, Korea, India.
------
Patrick Macias is editor in chief of Crunchyroll News and Otaku USA magazine. He is also the author of the HYPERSONIC music club webcomic.