"Mirai-hen/The Future" will be released on April 25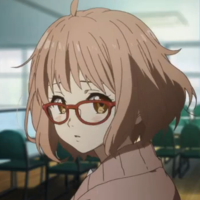 Kyoto Animation's official website for the two-part feature film project Beyond the Boundary the Movie: I'll Be Here has posted a 50-second second trailer for the upcoming all-new second part Mirai-hen/The Future. The first part Kako-hen/The Past, which complied the 12-episodes of the TV anime series aired in 2013, opened in Japan on March 14 and failed to rank in top 10 of the weekend box office.
The site also announced that the moviegoers will receive a different coaster illustrated by the character designer Miku Kadowaki in the first four weeks till the stock lasts: Mirai Kuriyama for the first week (April 25-), Akihito Kanbara for the second (May 2-), Mitsuki Nase for the third (May 9-), and Hiroomi Nase for the fourth (May 16-).
2nd trailer
Coaster illustrations
Flyer
Source: "Beyond the Boundary" anime official website
© Nagomu Torii, Kyoto Animation/"Kyokai no Kanata" Production Committee