Starts today, April/3 at 10:30 pm Pacific Time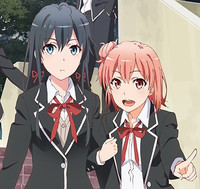 New anime announcements continue to march out of Crunchyroll today with word that My Teen Romantic Comedy SNAFU TOO! is set to join the Spring 2015 lineup.
My Teen Romantic Comedy SNAFU TOO! is set to broadcast every Friday starting on April 3, 2015 at 10:30 pm Pacific Time for premium members, with free members able to watch one week later. More information can be found on http://www.crunchyroll.com/snafu.
Story
Hikigaya Hachiman, with his unique thought processes, seemed to be glorifying the life of a loner when his guidance counselor, Hiratsuka Shizuka, talked him into joining the Service Club. Together with the other members, the breathtaking, flawless Yukinoshita Yukino and the cute, popular Yuigahama Yui, he spent his days solving all kinds of problems for his classmates, from relationship worries to running the cultural festival committee. The seasons have given way to fall, and now Hachiman, Yukino, and Yui are preparing for a field trip to Kyoto. What request has been brought to the Service Club this time?
My Teen Romantic Comedy SNAFU TOO! will be available to audiences in United States and Canada.
------
Patrick Macias is editor in chief of Crunchyroll News and Otaku USA magazine. He is also the author of the HYPERSONIC music club webcomic.