Yui Ogura's 12-song 1st album tops the chart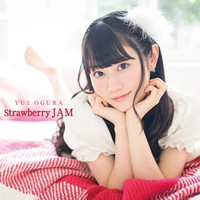 The TOWER RECORDS Shinjuku store in Tokyo has announced the weekly TOP 10 anime singles/albums for the week of March 23-29. As expected, the number one album of the 12th week of the year 2015 was 19-year-old popular anime voice actress Yui Ogura's 1st album "Strawberry JAM," which was released on March 25. The 12-song album, which contains all of her single songs in 2012-2014, also took a very good 8th in the Oricon weekly album chart selling 14,614 units in its first week.
Weekly Top 10 Ranking (March 23-29, 2015)
1 (new). "Strawberry JAM"
Yui Ogura (1st album)
"Happy Strawberry" original version short PV
2 (new). "THE IDOLM@STER CINDERELLA GIRLS ANIMATION PROJECT 03 -LEGNE- Adanasu Tsurugi Hikari no Shirabe"
Rosenburg Engel (solo unit by Ranko Kanzaki voiced by Maaya Uchida)
CM
Preview
3 (new). "THE IDOLM@STER LIVE THE@TER HARMONY 09"
Milky Way
Milky Way's "Hoshikuzu no Symphonia" and ARRIVE's "STANDING ALIVE"
4 (new). "THE IDOLM@STER LIVE THE@TER HARMONY 10"  
ARRIVE
Tomoka Tenkubashi's "Torikago Scripture" and Rio Momose's "WHY?"
5 (1). "PriPara Idol Song♪Collection by SoLaMi SMILE & Cosmo & Falulu"
Himika Akaneya, Yu Serizawa, Miyu Kubota, Nozomi Yamamoto, Chinatsu Akasaki
6 (new). "ALTERNATIVE!"
X.I.P. (2nd single by a boys idol unit from smartphone game Tokimeki Restaurant☆☆☆)
!CHEAT DANCER" short PV
7 (new). "No Anime No Life ~Tower Anime wa Anata no Tame no Omise Desu~"
Drama CD (Ayana Taketatsu, Hiroshi Kamiya, Yuka Iguchi, Aoi Yuuki, Takahiro Sakurai) 
8 (new). "Candy Lips"
Luna Haruna (2nd album) 
9 (new). "Reincarnation"
Minori Chihara (self-cover symphonic album) 
"Junpaku Sanctuary"
Preview for all songs
10 (new). "SHOW BY ROCK!! Original CD. Tsurezure Naru Ayatsuri Mugenan"
Tsurezure Naru Ayatsuri Mugenan
Instrumental version PV
* all of the CMs/PVs in this article are legitimately posted on YouTube by the copyright holders/distributors.
---
2015 archive
TOWER RECORDS Shinjuku Weekly Anime Song TOP 10 December 22 - January 11
TOWER RECORDS Shinjuku Weekly Anime Song TOP 10 January 12-18
TOWER RECORDS Shinjuku Weekly Anime Song TOP 10 January 19-25
TOWER RECORDS Shinjuku Weekly Anime Song TOP 10 January 26-February 1
TOWER RECORDS Shinjuku Weekly Anime Song TOP 10 February 2-8
TOWER RECORDS Shinjuku Weekly Anime Song TOP 10 February 9-15
TOWER RECORDS Shinjuku Weekly Anime Song TOP 10 February 16-22
TOWER RECORDS Shinjuku Weekly Anime Song TOP 10 February 23-March 1
TOWER RECORDS Shinjuku Weekly Anime Song TOP 10 March 2-8
TOWER RECORDS Shinjuku Weekly Anime Song TOP 10 March 9-22
Source: Mantan Web