Kishimoto says, "Now I can't draw anything more than this."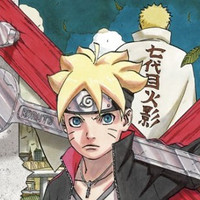 It is legitimately announced today in Japan that a new anime film featuring Naruto's son, Boruto Uzumaki, titled Boruto -Naruto The Movie-, is set for a release in Japan on August 7, distributed by Toho. A teaser visual newly-drawn by the manga original creator Masashi Kishimoto, who serves as executive producer, is also revealed. The tagline is, "That's tacky, Hokage/crappy old man."
Message from Kishimoto:
"This Boruto movie features all new characters, starting everything from zero. It means, it still exists only in my head, who is the original creator. For the first time in this 11th Naruto movie, I wrote the screenplay all by myself, provided the ideas for character designs, refined them till I was satisfied, then discussed more with the staff seeking perfection. After the serialization finished, I have spent all of my
time used to spend for manga to this movie. Here is the Naruto movie that I have really wanted to make.
One last word..., now I can't draw anything more than this...."
Teaser visual
via: Comic Natalie
(c) Masashi Kishimoto, Scott/Shueisha, TV Tokyom Pierrot
(c) Movie Boruto Production Committee 2015