Both series start today, 4/6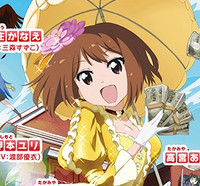 Prepare thyself for more new anime announcements at Crunchyroll this week, as the Spring 2015 season gets a +2 in the form of Teekyu 4 and Takamiya Nasuno Desu!
Teekyu 4 as well as its spin-off series, Takamiya Nasuno Desu!, are set to broadcast every Monday starting on April 6th at 10:30 am Pacific Time for Teekyu 4 and Takamiya Nasuno Desu! following immediately after at 10:32am Pacific Time for premium members, with free members able to watch one week later. More information can be found on www.crunchyroll.com/teekyu and www.crunchyroll.com/takamiya-nasuno-desu, respectively.
The zany tennis short is back with Teekyu 4! The everyday lives of four unusual girls of the Kameido High School tennis club will have you convulsing with laughter. Thrown about by her idiot seniors, junior member Oshimoto Yuri finds herself constantly correcting them. Incompetent at tennis despite being a member of the tennis club, second year student Shinjo Kanae is a joke machine. Kansai second year student Bando Marimo is unimaginably perverted. Solving all problems with money is the mysterious and wealthy second year student Takamiya Nasuno.
Speaking of Takamiya Nasuno, she is now the star of her very own spin-off series in Takamiya Nasuno Desu! Directed by Teekyu series director Shin Itagaki, Maiko Miyake, who previously worked the second season of Teekyu as well as Wake Up, Girls!, will be handling character design for the series.
Teekyu and Takamiya Nasuno Desu! will be available to audiences in the following territories: North America, South America, Canada, United Kingdom, Ireland, South Africa, Australia, New Zealand, Denmark, Finland, Netherlands, Norway, and Sweden.
------
Patrick Macias is editor in chief of Crunchyroll News and Otaku USA magazine. He is also the author of the HYPERSONIC music club webcomic.