Starts tomorrow, April 8, at 12:00 am Pacific Time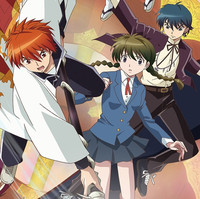 The creative mind behind such hits at Ranma ½ and Inuyasha returns to anime this season in a big way with RIN-NE. Crunchyroll begins streaming Rumiko Takahashi's latest work tomorrow!
RIN-NE is set to broadcast every Wednesday starting on April 8th at 12:00 am Pacific Time for premium members, with free members able to watch one week later. More information can be found on www.crunchyroll.com/rin-ne.
Background and story
Based on a manga by the famous Rumiko Takahashi, known for bestsellers such as Inuyasha and Ranma ½, RIN-NE follows the adventure of Sakura Mamiya, who has the power to see ghosts after a childhood incident, and her classmate, Rinne Rokudo, who is half shinigami and helps lost spirits pass on to be reincarnated.
Marina Inoue, known for playing Armin Arlelt in Attack on Titan, will be voicing Sakura, with Kaito Ishikawa, who also voiced Tobio Kageyama in Haikyu!!, will be playing Rinne. The opening theme is "Ohka Ranman" by KEYTALK, while the ending song is "Toki no Wa" by Passepied.
RIN-NE will be available to audiences in the following territories: USA, Canada, Australia, New Zealand, and Latin America.
------
Patrick Macias is editor in chief of Crunchyroll News and Otaku USA magazine. He is also the author of the HYPERSONIC music club webcomic.