Starts tomorrow, April 8th, at 12:00 pm Pacific Time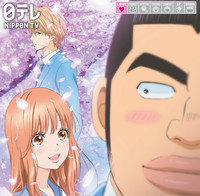 Stock up on flowers and chocolates! MY love STORY!!, based on the manga Ore Monogatari!! by Kazune Kawahara and Aruko, is coming to Crunchyroll as part of the Spring 2015 season of streaming anime.
MY love STORY!! broadcasted by Nippon TV in Japan, is set to broadcast on CR every Wednesday starting on April 8th at 12:00 pm Pacific Time for premium members, with free members able to watch one week later. More information can be found on www.crunchyroll.com/my-love-story.
Story and background
Takeo Goda is a giant guy with a giant heart. Too bad the girls don't want him! (They always go for his good-looking best friend, Sunakawa.) Used to being on the sidelines, Takeo simply stands tall and accepts his fate. But one day when he saves a girl named Yamato from a harasser on the train, his (love!) life suddenly takes an incredible turn! Takeo can hardly believe it when he crosses paths with Yamato again, and he finds himself falling in love with her… But with handsome Sunakawa around, does Takeo even stand a chance?
The friendly giant Takeo will be played by Takuya Eguchi, (Ryoma from Love Stage!!), while his handsome best friend Sunakawa will be voiced by Nobunaga Shimazaki (Izumi Shinichi from Parasyte -the maxim-). They are joined by Megumi Han (Gon from HunterxHunter (2011)) who plays Rinko Yamato.
MY love STORY!! will be available to audiences in: United States (and its territories), Canada, Central and South America (including the Caribbean), Australia and New Zealand, Europe and the Middle East, South Africa and North Africa.
------
Patrick Macias is editor in chief of Crunchyroll News and Otaku USA magazine. He is also the author of the HYPERSONIC music club webcomic.