La nouvelle série du dessinateur de High School of the Dead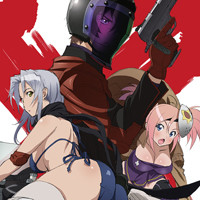 La nouvelle série 100 % action du dessinateur de High School of the Dead arrive sur Crunchyroll ! Retrouvez Triage X en simulcast en VOSTFR dès le 8 avril pour les membres Premium, puis gratuitement une semaine plus tard. Un nouvel épisode sera ajouté chaque mercredi à 19 h 30. Plus d'informations seront disponibles sur www.crunchyroll.com/triage-x.
RÉSUMÉ
L'hôpital général Mochizuki possède les infirmières et les aides-soignantes les plus compétentes de la ville. Ces femmes ont beau consacrer leur temps à lutter contre la maladie, après leurs heures de travail, elles se livrent à un tout autre combat ! Sous les ordres du directeur de l'hôpital, une poignée du personnel se joint à des étudiants pour devenir des mercenaires. Leur mission : soigner le cancer qui ronge la ville en éliminant sans états d'âme les individus jugés néfastes pour la société...
À PROPOS DE TRIAGE X
– L'histoire est adaptée d'un seinen manga de Shôji Satô (dessinateur de High School of the Dead), publié depuis 2009 par Kadokawa Fujimi Shobo.
– En France, le manga est édité depuis deux ans chez Pika Édition (tome 9, à paraître le 17 juin).
– La série est dirigée par l'animateur Akio Takami (Tokyo ESP) et le réalisateur Takao Kato (To-Love Ru, Pandora Hearts).
FICHE TECHNIQUE
Titre original : Triage X (トリアージX)
Année : 2015
Auteur : Shôji Satô
Réalisateurs : Akio Takami, Takao Kato
Conception des personnages : Akio Takami
Bande originale : Makoto Miyazaki
Studio de production : Xebec
TERRITOIRES ET SUPPORTS
Triage X sera disponible sur Crunchyroll dans les territoires suivants : États-Unis, Canada, Amérique Centrale et du Sud (y compris les Caraïbes), Europe (à l'exception de l'Allemagne), Moyen-Orient et Afrique.
© 2015 Shouji Sato/KADOKAWA Fujimishobo/TRIAGEX Partners