The new edition drama CD hits Japanese stores April 15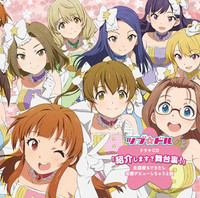 Record company Zero-A has posted a PV for the new edition drama CD of the upcoming idol-themed OVA series Tubu Dol featuring an introductory comment by popular voice actress Ayana Taketatsu as one of the idols, Asuka Sagami.
The OVA is produced as the 60th anniversary commemorative project for Sagamihara-city in Kanagawa Prefecture to revitalize its local economy. The production cost is financed by donated money from the citizen and local companies.
The story of the five-episode OVA is set in Sagamihara and features 16 girls who will achieve their dreams to be top idols. All of their family names are taken from the places in the city, and they will promote the special products and sightseeing areas in the city through their idol activities.
The original version of the drama CD was first released in November 2014 and sold only at Sagamihara
Asamizo Park Stadium. The new edition with a newly-recorded theme song "Tubu Dol" sung by the 16 VAs
will be available nationwide on April 15.
New edition CD jacket
Original edition
Voice cast:
Asuka Sagami: Ayana Taketatsu
Tamao Ajsai: Nao Touyama
Mahiro Kitazato: Maaya Uchida
Hana Yaei: Aya Suzaki
Konomi Kamimizo: Shizuka Ishigami
Chisato Suwarashi: Shiori Mikami
Junko Araiso: Nozomi Yamamoto
Karin Odasaga: Naomi Ozora
Yui Hikarigaoka: Ayane Sakura
Kaede Unomori: Yuka Otsubo
Hinano Sakurai: Chie Uihara
Megumi Sakunokuchi: Moe Toyota
Mizuki Tana: Kana Yuuki
Chie Fujino: Natsumi Sugita
Hikari Kodama: Shizuka Ichinomiya
Yuzu Odasaga: Serena Atou
via: Animate. TV
© Tubu★Dol Production Committee