Starts tomorrow, April 10, at 8:00 am Pacific Time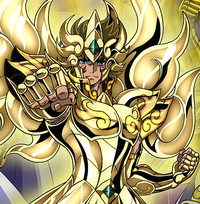 All that glitters is Crunchyroll's spring lineup as the legendary heroes of Masami Kurumada's Saint Seiya anime return for a new series of bold adventures with Saint Seiya - Soul of Gold.
Saint Seiya - Soul of Gold is set to broadcast every Friday starting on April 10, 2015 at 8:00 am Pacific Time More information can be found on www.crunchyroll.com/saint-seiya-soul-of-gold.
Transcending eternity, the 12 Gold Saints return to protect love and peace on Earth!
The 12 Gold Saints gave their lives to destroy the Wailing Wall to break the way for Seiya and the Saints in their battle against Hades in the Underworld!
Though presumed dead, Aiolia and the other Gold Saints return to the beautiful earthly world of radiating luminescence!
Why have these lost souls been brought back to life?
Shrouded in this deep mystery, Aiolia becomes embroiled in a duel.
When he burns his Cosmo to its limit…the Cloth of Leo transforms!
In 2015, the Golden Cosmo is finally revived!
Saint Seiya - Soul of Gold will be available to all members in the United States, Canada, and premium members in South Africa, Australia, New Zealand, Latin America (South America, Central America, and Caribbean), Europe (excluding French speaking countries), the Middle East and North Africa, Armenia, Azerbaijan, Georgia, and Kazakhstan.
Update: Additional territories added.
------
Patrick Macias is editor in chief of Crunchyroll News and Otaku USA magazine. He is also the author of the HYPERSONIC music club webcomic.