First episode debuts on Noitamina today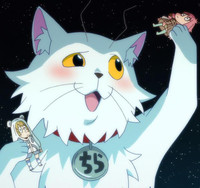 Ahead of today's debut, anime programming block Noitamina has posted a preview of the first episode of original anime comedy Punch Line. Along with a title that's a word play on "panchira" (accidentally showing underwear), the tagline for the TV anime is "If you see pants, the human race may perish!?"
Director: Yutaka Uemura (The Mystic Archives of Dantalian)
Character design: Shouta Iwasaki (Kill la KILL episode animation director) 
Script: Kotaro Uchikoshi (Memories Off, Ever17 -the out of infinity-)
Music: Tetsuya Komuro (TM Network, globe)
Anime production: MAPPA (Terror in Resonance, Rage of Bahamut: Genesis)
Original story: MAGES./Fuji TV
Cast
Mikatan Narukino - Sora Amamiya(left), Yuuta Iritatsu - Marina Inoue (right)
パンチライン、登場キャラクターを一部紹介! まずは幽体離脱しちゃった主人公・伊里達遊太(いりだつゆうた)と、ふんわかほわほわアイドル・成木野みかたん(なるきのみかたん)です! pic.twitter.com/p3gTpUVZJf

— punchline_pj (@punchline_pj) November 27, 2014
(from left) Rabura Chichibu - Haruka Tomatsu, Ito Hikiotani - Minako Kotobuki , Meika Daihatsu - Rie Kugimiya
続いてひきおたニートなネトゲ廃人・曳尾谷愛(ひきおたにいと)、おじいちゃん大好き大発明家・台初明香(だいはつめいか)、ギャル風インチキ霊媒師・秩父ラブラ(ちちぶらぶら)です! pic.twitter.com/irxiOpaoWc

— punchline_pj (@punchline_pj) November 27, 2014
Chiranosuke - Yuri Yoshida
Opening song "PUNCH LINE!" is performed by a collaboration unit "Shokotan Daisuki Denpagumi" between otaku idol singer Shoko Nakagawa and idol group Denpagumi.inc.
会場でパンチラシもらったの(*´∀`*)つ。きゃわわ! pic.twitter.com/73RxRy3ooT

— えいたそ☆成瀬瑛美 (@eitaso) March 15, 2015
【パンチラシvol.1を配布開始!@AKIHABARAゲーマーズ本店前】是非お立ち寄りください!#パンチライン http://t.co/guI7Oa5dcI pic.twitter.com/NCJsbPK4dS pic.twitter.com/ts3955n29v

— パンチライン (@punchline_pj) April 9, 2015
------
Scott Green is editor and reporter for anime and manga at geek entertainment site Ain't It Cool News. Follow him on Twitter at @aicnanime.