Anime studio ready to begin work on crowdfunded project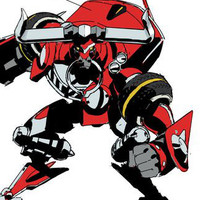 Last November, the Kickstarter campaign to crowdfund the production of a pilot for Cannon Busters: The Animated Series raised over $136,000 in pledges, exceeding its $120,000 goal. Now, the Creator, Writer, Director LeSean Thomas is excited to announce that production has finally begun at anime studio Satelight Inc (Macross Frontier, Log Horizon, Basquash! and more recently Nagato Yuki-chan no Shoshitsu).
Writer Eric Calderon and Thomas have been working over the last few months to finalize the script and it's finally ready to go. Thompson will then be in Tokyo in the next month at Satelight to produce the project with the staff.
The project from TV animation Producer and Director, LeSean Thomas (Makestuff, LLC), whose work has been seen on The Boondocks, The Legend of Korra (Book 1), and more recently, Black Dynamite: The Animated Series, brings together an impressive international team that includes Joe Madureira(Darksiders), Thomas Romain (Space Dandy), and Producer Tim Yoon (The Legend of Korra). The campaign also garners the support from animation studio, Satelight Inc. (Macross Frontier, Bodacious Space Pirates, AKB0048) in Japan, and retailer Animebooks.com.
Cannon Busters is an animated adventure story about the value of friendship and just how far one is willing to go to maintain it. "Think The Wizard of Oz meets Hidden Fortress with a dash of Escaflowne + Hip Hop and classic RPGS -- all rolled into one ride of fun, suspense, action & wackiness," says the Creator. Voice talent includes actress Angelique Perrin (Star Wars: The Clone Wars), Elizabeth Maxwell (Attack On Titan) & Kevin Grevioux (Underworld Trilogy, I, Frankenstein).
The @Cannon_Busters Pilot script is a go at @satelight_inc . #ProductionBegins #Animation #Dec2015 @ericcalderon pic.twitter.com/hPNgoPWoaa

— LeSean Thomas (@LeSeanThomas) April 6, 2015
2015 is gonna be a good year for new cartoons in the US. @Cannon_Busters Pilot is coming' #Bessie #MakeStuff pic.twitter.com/9sEJGRpy1V

— LeSean Thomas (@LeSeanThomas) April 8, 2015
FACT: BESSIE, the mobile-home mecha was named after Elizabeth"Bessie"Coleman: The 1st female African-American pilot. pic.twitter.com/0OHujx57E5

— LeSean Thomas (@LeSeanThomas) April 8, 2015
Great news! We are going to produce the pilot of Cannon Busters in Japan at Satelight! The hard work has begun. pic.twitter.com/jLiybAfXfg

— ThomasRomain ロマン・トマ (@Thomasintokyo) April 9, 2015
キャノンバスターズというアメリカのアニメ企画のパイロット映像を、サテライトで制作することになりました。アメリカ人、日本人、フランス人が協力して、にぎやかな現場になりそうです。みんな、面白い映像ができるように頑張ります! pic.twitter.com/EpPswSxMzs

— ThomasRomain ロマン・トマ (@Thomasintokyo) April 9, 2015
-------
Scott Green is editor and reporter for anime and manga at geek entertainment site Ain't It Cool News. Follow him on Twitter at @aicnanime.