Par l'auteur du manga Drôles de Racailles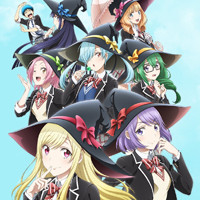 Crunchyroll annonce la diffusion en simulcast en VOSTFR de Yamada-kun and the Seven Witches (Yamada-kun to Nananin no Majo / Yamada et les sept sorcières), la nouvelle comédie de l'auteur de Drôles de Racailles. Elle débutera dès le 12 avril pour les membres Premium, puis sera accessible gratuitement une semaine plus tard. Un nouvel épisode sera ajouté chaque dimanche à 18 h 30. Plus d'informations seront disponibles sur www.crunchyroll.com/yamada-kun-and-the-seven-witches.
RÉSUMÉ
La journée avait mal commencé pour Ryû Yamada, qui s'est fait remonter les bretelles par son professeur. Un peu plus tard, il tombe dans les escaliers, entraînant dans sa chute la belle Urara Shiraishi. Dans l'action, ils se donnent même un baiser fortuit, et voilà qu'à présent, les deux lycéens ont échangé leur corps ! Avec deux personnalités aussi opposées, cela ne pouvait pas tomber plus mal. Et ce n'est que le début des ennuis pour Yamada qui va aller de surprise en surprise…
À PROPOS DE YAMADA-KUN AND THE SEVEN WITCHES
– L'histoire est tirée d'un manga shônen de Miki Yoshikawa, l'auteur de Drôles de racailles. Cette mangaka est une ancienne assistante du créateur de Fairy Tail.
– Au Japon, le manga est publié au Japon depuis 2012 par Kôdansha et compte déjà seize tomes (toujours en cours).
– Le manga sera très bientôt publié en France par Delcourt. Le tome 1 est annoncé en librairie le 17 juin 2015.
– L'œuvre avait déjà été adaptée à la télévision en 2013 sous la forme d'un drama (série live) en huit épisodes.
FICHE TECHNIQUE
Titre original : Yamada-kun to Nananin no Majo (山田くんと7人の魔女)
Année : 2015
Auteur : Miki Yoshikawa
Réalisateur : Seiki Takuno
Conception des personnages : Eriko Iida
Bande originale : Masaru Yokoyama
Studio de production : Liden Films
TERRITOIRES ET SUPPORTS
Yamada-kun and the Seven Witches sera disponible sur Crunchyroll dans les pays et territoires suivants : États-Unis, Canada, Amérique Centrale et du Sud (y compris les Caraïbes), Afrique du Sud, Australie, Nouvelle-Zélande, Europe, Moyen-Orient et Afrique du Nord.
© Miki Yoshikawa, KODANSHA/"Yamajo" Production Committee. All Rights Reserved.