Starts tomorrow, April 11, at 12:00 pm Pacific Time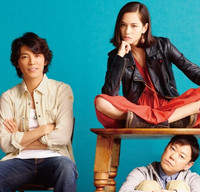 There's much, much more to the spring 2015 season at Crunchyroll than just the latest streaming anime: new J-Drama is part of the fun too, as Crazy For Me is set to launch soon.
Crazy For Me is set to broadcast every Saturday starting on April 11, 2015 at 12:00 pm Pacific Time for premium members, with free members able to watch one week later. More information can be found on www.crunchyroll.com/crazyforme.
Story and background
Everyone has a worry or two in life. Not to mention all the anxieties of the modern world that add to our list of worries. Crazy For Me is a romantic comedy centered around 4 melancholy individuals who have all had their fill of failures and agonies in the past. Laugh and cry with them in their journey to overcome their problems in this light, heartwarming comedy.
The heartbroken Haruto Kojima will be played by Abe Sadao, who is known for his role in the Iryuu Medical Dragon series. Actress and model Kiko Mizuhara, whose works in include roles in Nobunaga Concerto and Norwegian Wood, plays the stalker lover Miyako Hayama.
Crazy For Me will be available to audiences in the USA, Canada, UK, Ireland, South Africa, Netherlands, Central and South America including the Caribbean, Australia, New Zealand, Scandinavia, Germany, Austria, Liechtenstein, Luxembourg, Switzerland, Belgium, Italy, Poland, Denmark, Hungary, Czech Republic, Romania, France and DOM/TOM, and Andorra.
------
Patrick Macias is editor in chief of Crunchyroll News and Otaku USA magazine. He is also the author of the HYPERSONIC music club webcomic.