La serie podrá verse también en Europa y otros países.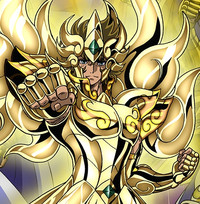 Los Caballeros creados por Masami Kurumada vuelven esta temporada al anime con Saint Seiya - Soul of Gold, y aunque en Crunchyroll ya anunciamos la serie para nuestra audiencia en varios países del mundo, nos alegra comunicar que hemos ampliado esa cobertura.
Saint Seiya - Soul of Gold estará disponible también para los usuarios de Crunchyroll en Europa (excluyendo territorios de habla francesa), Oriente Medio y el Norte de África, Armenia, Azerbaiyán, Georgia, Kazajstán.
Se unen así a la ya anunciada transmisión de la serie para los usuarios en Estados Unidos, Canadá y usuarios premium en Sudáfrica, Australia, Nueva Zelanda y Latinoamérica.
Saint Seiya - Soul of Gold podrá verse todos los viernes cada dos semanas a partir del día 10 de abril, a las 8:00, hora del Pacífico.
Se puede encontrar más información sobre la serie en este enlace.
¡Trascendiendo la eternidad, los 12 Caballeros de Oro regresan para proteger el amor y la paz en la Tierra!
Los 12 Caballeros de Oro dieron sus vidas para destruir el Muro de los Lamentos y así abrir el camino a los Campos Elíseos para Seiya y los Caballeros de Bronce en su batalla contra Hades.
Aunque había sido dado por muerto, Aiolia regresa misteriosamente a la Tierra en Asgard, la tierra del frío eterno.
¿Por qué han devuelto a la vida a esta alma en pena?
¿Y quién es Andreas Lise, el enigmático hombre que quiere hacerse con el control de Asgard?
¡En el 2015, el Cosmos de Oro renace!