Studio Colorido-produced film will be released on June 5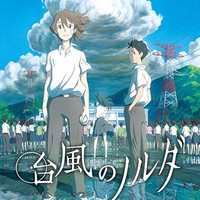 Studio Cororido has launched the official website for its upcoming short film Taifu no Noruda directed by 26-year-old ex-Studio Ghibli animator Youjiro Arai. After working on Arrietty, From Up on Poppy Hill, and The Wind Rises, he left Studio Ghibli then moved to Studio Cororido in 2012. He served as the character designer and animation director for the company's 2013 film Hinata no Aoshigure directed by Hiroyasu Ishida (Fumiko's Confession). In Taifu no Noruda, Ishida works as the character designer/animation director in return.
Taifu no Noruda is a collaboration project between Studio Colorido and Fuji TV, and is scheduled to be screened for a limited time of three weeks from June 5.
The story is set in a junior high school in a remote island. On the day before the school festival, the greatest
typhoon ever recorded is approaching the island. Meanwhile, Higashi has a quarrel with his best friend Saijo,
because he has decided to quit playing baseball which he played since he was a kid. Suddenly, he encounters
a mysterious girl with red eyes, named Noruda. She says, "When the whirlpool on the ground, the whirlpool in
the sky, and I are united as one, this planet will be born again...."
Teaser
Main visual
via: Mantan Web
(C) Movie "Taifu no Noruda" Production Committee