Toho-distributed film will be released on July 11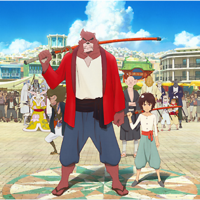 A 90-second trailer and a 30-second second teaser for acclaimed director Mamoru Hosoda's new anime feature Bakemono no Ko/The Boy and The Beast have been posted, announcing its main voice cast. It is his first film in three years since Wolf Children in 2012, which earned a massive 4.2 billion yen in the Japanese box office.
The film, based on Hosoda's own original story and screenplay, is set in a human world Shibuya and a bakemono (beasts) world called Jutengai. 29-year-old actress Aoi Miyazaki plays the childhood of a human boy Kyuta, who strays into Jutengai and encounters Kumatetsu, a bear-like swordsman voiced by 59-year-old awards-winning actor Kouji Yakusho, then becomes his apprentice. Meanwhile, 22-year-old Shouta Sometani voices the adolescence of the character. Both Miyazaki and Sometani previously joined Hosoda's last film Wolf Children as voice cast.
The highly anticipated film is slated for a release in Japan on July 11, 2015. French film studio Gaumont
is managing international distribution except Asia. It is scheduled to be screened (at least) in France, the US,
the UK, Germany, Italy, Spain, and Korea.
Tariler
2nd teaser
Announced voice cast:
Kumatestu: Kouji Yakusho
Kyuta (childhood): Aoi Miyazaki
Kyuta (adolescence): Shouta Sometani
Kaede: Suzu Hirose
Soushi: Masahiko Tsugawa
Hyakusubou: Lily Franky
Tatara: Yo Oizumi
Iouzan: Kazuhiro Yamaji
Ichirohiko (childhood): Haru Kuroki
Ichirohiko (adolescence): Mamoru Miyano
Jiromaru (childhood): Momoka Ouno
Kiromaru (adolescence): Kappei Yamaguchi
Kyuta's father: Keishi Nagatsuka
Kyuta's mother: Kumiko Asou
Chiko: Sumire Morohoshi
[映画ニュース] 細田守監督「バケモノの子」声優に役所広司、宮崎あおい、染谷将太ら豪華俳優陣ずらり! http://t.co/wjUPqEnjqE #映画 #eiga pic.twitter.com/9Xpum8PkU2

— 映画.com (@eigacom) April 12, 2015
1st teaser
Poster visual
Source: Eiga. com